No,this is not a plug for a Rich Dad Poor Dad seminar. I've never been to one and likely never will. I haven't even read all his books. But I do know Robert Kiyosaki believes assets are dead expenses, unless they are working for you.
I'm starting to evaluate practically everything I own as to its value as a possession versus converting it to cash. I'm finding the cash is often more important, because it works for me. I use it to buy more product to resell on eBay, and with continued reinvestment I'm now managing over 60 auctions with virtually none of my own bank money invested. It's a good place to be, and a goal we should all have.
A good example is a Kate Spade purse I recently purchased from the eBay Fashion site. They were having a 48 hour sale, and I didn't make the buy until the last day when the selection wasn't the greatest. Still, I liked the purse and it was only $168 with free shipping, regularly over $400.
I still wasn't sure when I received if it I liked it. I started thinking about what I'd do with that $168 if I had it back, and maybe a little more with an eBay flip. I decided I'd rather have the cash for reinvestment, and put it up for auction. Here's what happened: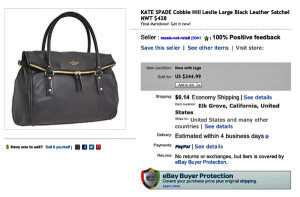 Not a home run with a 45% profit after eBay expenses, but I got my money back plus another $50 I didn't have two weeks ago, and that cost me nothing. Now instead of $168 to reinvest, I have about $220. What's 45% markup on $220?  About $100, or double my original profit.
That kind of math can make your head spin, and it should, because the profit increases exponentially as the sales dollars increase. And that's calculated at only 45% profit–my average is much higher.
Will you take a new look at those household goods and accessories now?  I know I am!  Cash verses stuff. Cash is winning more and more.
Speaking of easy money, have you seen this?  LOL!  Now that's just being lazy– but to get paid for it??
Tell us in the comments below what you have sold or plan to sell because the cash has more value than the item!
Want to Learn More Ways to Make Money on eBay?
Pick up a copy of my Amazon best seller!
We take you from the day you open your eBay account and tell you how I've been making money as  Power Seller for 15 years. Our over the shoulder guide makes it easy, fun and profitable!  Check out some of our recent reviews over here——–>